Window cleaning has been reshaped and remodelled over the years from the household to a large scale level. It is often thought of as a simple process that probably involves little thought and requires no standard procedure. It may not be the most technical of activities depending on the scope, however, it does involve steps, measures and there are ways to get it done efficiently and effectively. The technological boom of this era has allowed window cleaning to experience its very own evolution.  Can anyone clean a window right? Or should it be anyone can clean a window wrong, right?
Window Cleaning- Doing it right!!
To achieve the ideal finished look guaranteed by professional window cleaners you will need a starter pack containing a mixture of traditional and new technologies. These include and are not limited to; a bucket, squeegee, micro-fibre cloth, a mop, a scraper and lint-free paper towels.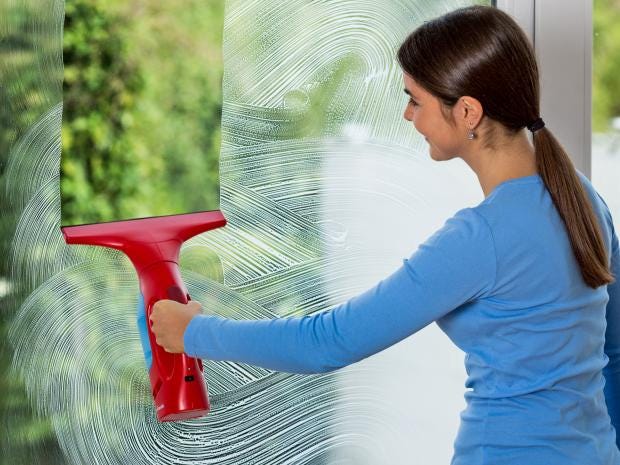 Window cleaning professionally requires:
A mop that was immersed in a half-filled bucket containing soap and water to pre-clean the window. This process helps to remove the majority of the dirt that has attached itself to the window and makes the remainder of the process much easier.
A scraper to remover tougher deposits of grease grime and stains that cannot be removed by the mere rubbing action of a mop. The scraper should be applied in a forward motion to achieve the best results as a backward motion may result in severe damage to the surface of the window being cleaned.
A squeegee to actually clean the window once the scraper has done its job of removing any previously hardened material. The squeegee should be applied with its face at an approximate 45-degree angle to the window. It should be used to remove as much dirt and water as possible by moving it firmly on the window.
A micro-fiber cloth and paper towel to remove any excess water from the sides and bottom of the window respectively. The micro-fiber cloth allows for the trapping of a significant amount of water it is lint free and gives a clean, crisp when on windows. This is a necessary step because the squeegee is incapable of removing all the water from the sides of the class being cleaned. The paper down then works to clean the bottom of the class or any other deposit that was not captured by the other tools.
Window cleaning is a task completed by professionals and homeowners. The requirements listed above might not be right or necessary for a single household, depending on the size of the windows; however, it might be wise to consider sprucing up your cleaning kit with a few items that will make window cleaning a fun family activity.